New Nursery Playground
24 August 2020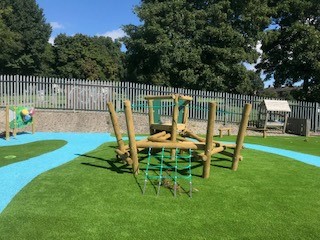 There has been lots of exciting things happening in the Nursery playground! It has had a complete overhaul and is now looking amazing! There are new challenges, things to discover and explore and lots and lots of fun to be had! We will be spending a great deal of our Nursery sessions outside this term, learning about ourselves and our environment, honing our listening skills, making new friends, challenging ourselves on our new climbing and balancing equipment and having a great deal of fun.
We may want a helping hand to cross the bridge, crawl through the tunnel or climb up to the slide and there will always be that helping hand there until you feel you can say " I can do it by myself, thanks".
All the staff are looking forward to meeting you all again, we are just as excited at the thought of crawling, climbing, sliding and exploring our new playground.
New Nursery Playground Pictures