Commando Joe's
Commando Joe's is a character building programme that we use at St Bart's! We take part in a fortnightly session that helps us be successful, both in and out of school.
We learn about ways that we can show RESPECT:
Resilience
Empathy
Self Awareness
Positivity
Excellence
Communication
Team work
It involved looking at famous explorers and taking part in missions with our friends. It allows us to transform our school hall or playground into the Amazon Rainforest, or even Mount Everest to become real life explorers ourselves and to work as a team to complete challenges. In our hall, we have a top secret box with all the things we need to realise our full potential!
These are the explorers we learn about:
| | | | | | |
| --- | --- | --- | --- | --- | --- |
| Year 1 | Year 2 | Year 3 | Year 4 | Year 5 | Year 6 |
| Traditional Tales | Pocohontas | Spartacus | Ed Stafford | Tim Peake | Nancy Wake |
| Simba and Me | Sam Pepys | Sir Ernest Shakleton | Kira Salak | Leif Erikson | Amelia Earheart |
| Steve Backshall and Me | The Queen | Nellie Bly | Levision Wood | Sir Ranulph Fiennes | Ibn Battuta |
This page will be regularly updated with pictures of what the children have been doing with Commando Joe's.
Curriculum - Commando Joe's - Strength
Class 11 have been looking at increasing their strength by training like Romans. We had an obstacle course laid out and the group had to complete it within a certain time. However, each time we repeated it, their Jerry can was filled with more water to make it heavier. The heavier it got, the more they had to work as a team to complete the course in time.
Curriculum - Commando Joe's - Great Fire of London
Class 7 take part in Commando Joes every 2 weeks. They work together as a team to complete tasks. This week they were all in boats on the Thames during the Great Fire of London. They had to avoid the fire and wreckage and get to the other end of the river to collect their gold all while making sure no one fell in the river or got left behind.
Curriculum - Commando Joe's - Roman Battle
Class 10 had a fantastic time doing Commando Joes! We pretended to be a Roman legion marching into battle! We were led by Miss Matley (who turned out to be a tough general!) and practiced marching in sync with each other by copying the person in front. We then split into smaller teams where we took turns being the commander and getting the rest of our team to follow our commands…blindfolded! It was hard work but we learned the importance of teamwork, including listening to the leader and finding kind ways of suggesting improvements.
Curriculum - Commando Joe's - Morse Code
Year 5 and year 6 have enjoyed learning about morse code in their Commando Joe's lesson. Children have worked together to create their own sentences/questions/commands and will be working on cracking codes next week!
Curriculum - Commando Joe's - Three Little Pigs
Class 3 have enjoyed taking part in Commando Joe's today. We had to go through the forest to collect new materials for the three little pigs to build their house with! We worked in teams to gather as many materials as we could.
Curriculum - Commando Joe's - Helping Goldilocks
Class 4 enjoyed completing a mission in their Commando Joe's session. They had to help Goldilocks cross a fast-flowing river. They worked together in teams and used different pieces of equipment to help Goldilocks cross the river.
Curriculum - Commando Joe's - Making Stars
This week in Commando Joe's we had to make stars using our bodies! We worked in teams to create the shape of a star and make sure it had 5 points. We then had a go with cones, making a star shape.
Curriculum - Commando Joe's - The Antarctic
In our Commando Joe's mission today, we went to the Antarctic like our fellow explorer Ernest Shackleton. We were stuck on HMS Endurance and we had to send rowers out 2 at a time to collect food for our crew. We discussed appropriate food for a ship and to sustain 6 crew members for as long as possible. We developed communication and team work skills.
Curriculum - Commando Joe's - Crossing the River
Class 3 had lots of fun taking part in Commando Joe's this week! We worked in groups to figure out how to cross the river using the equipment we had chosen. The children worked well together in their teams.
Curriculum - Commando Joe's - Obstacle Course
Our mission today was based upon the Nursery Rhyme - Jack and Jill. The children had to work in teams and in pairs to go over the obstacle course to collect some water (blue balls). The team with the most water in their bucket at the end was the winner. The children had to use their team work and communication skills to ensure that they didn't drop the water, or they had to start again! Well done class 1, great work. I think Commando Joe would be very proud.
Curriculum - Commando Joe's - Caterpillar Walking
Class 1 loved completing their first Commando Joe's mission! They had to work as a team to walk as a caterpillar but some children had to walk with their eyes closed. This encourages team work and trust within the teams. We had a discussion about how it made us feel to walk around with our eyes closed. Well done class 1.
25 April 2023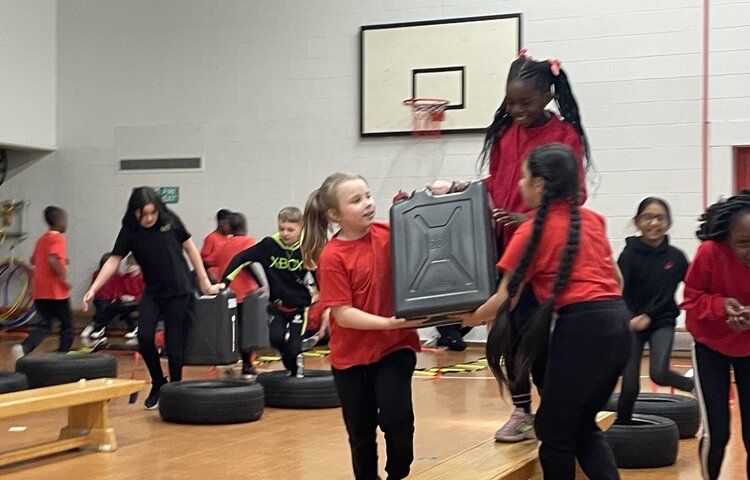 27 March 2023