History
At St Bartholomew's, we pride ourselves on the scope and depth of our history teaching. Currently, the school uses Collins Connected History which provides children with in-depth studies of statutory curriculum areas. The resources provided allow for hands on and independent investigatory and enquiry work by our students.
Often, resources with the scheme (and those devised by teachers) are both picture and language based meaning strong differentiation for all ranges of ability. Some year groups use these studies to form their topic whilst other year groups use Collins Connected History as part of research projects within their study area. Furthermore, the school has recently become a member with Leeds City Museums. As part of the membership, the school is able to loan topic boxes with genuine, historical artefacts that can be used in the classroom and handled by pupils.
We believe this hands on experience can spark a lifetime of interest in history for our pupils. Our membership also offers twilight training for our staff members and annual museum trips for our pupils. Whilst teaching, our staff work as much as possible to incorporate local history into our studies. This includes: visiting local Victorian mills, local castles and exploring the impact of World War II in Leeds and other surrounding cities.
Curriculum - History
Curriculum - History - Useful Links
Curriculum - History - The Battle of Hastings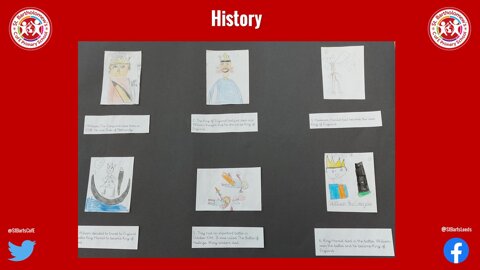 In History, class 7 have been learning about the Battle of Hastings and the Bayeux Tapestry. Class 7 have also retold the story of The Battle of Hastings with words and pictures! The children drew some wonderful pictures to illustrate the key events in this amazing battle.
Curriculum - History - Dantastic Education
We enjoyed a wonderful visit from Dantastic Education which presented an exciting Knights and Castles workshop. The children dressed up as kings, queens, squires and knights! They looked fantastic! A huge thank you to the parents and carers who helped prepare these costumes. The children had lots of opportunities to learn about the medieval ages and they even danced to the music from this era. They also handled some of the weaponry and chainmail used by the knights who defended the castles. They looked closely at all of the objects and made some detailed observational drawings. As ever, everyone behaved beautifully and listened carefully. Well done class 7!
Curriculum - History - Sir William Petty Visit
Year 1 had a very exciting morning! Sir William Petty came to visit us to teach us all about The Great Fire of London. He told us all about how the fire started, how it spread and what parts of London were affected. We were part of an experiment to show how the fire spread then created our very own bucket line to help put out the fire. Sir William has left us the task of redesigning the part of London that burnt down; he's going to give our plans to King Charles II!
Curriculum - History - Guy Fawkes Visit
We had a great day learning about why we celebrate bonfire night. Guy Fawkes came into school to perform an assembly to classes 4,5 and 6. The children were invited to act too. We learnt about the different people that were involved in the Gun powder plot and how the events happened.
Later in the day, Guy Fawkes visited each class. This gave the children the opportunity to learn further information, ask questions and even write a secret message just like they had done in the plot.
The children had a great time and learnt lots of facts.
Curriculum - History - Skipton Castle Trip
Year 2 had an amazing time at Skipton Castle, they learnt more information about the Battle of Hastings and how Skipton Castle was involved.
The children learnt about the drawbridge and murder hole to stop those entering the castle, the masons getting paid per brick and how the dungeons were made.
Curriculum - History - Black History Week
Year 2 learnt all about African Dancing in their Black History Week Workshop.
Year 4 had a fantastic time learning about Rosa Parks and the Civil Rights Movement for Black History Week. We have created our own oil pastel drawings of Rosa Parks and have written a biography about her life.
Curriculum - History - Anglo-Saxons
Year 3 and year 4 have had a great time at our Anglo Saxon workshop. We learned why the Anglo-Saxons came to Britain and how they managed to defend themselves.
Curriculum - History - Roman Day
Year 3 and year 4 made fabulous Romans on our Roman Day! We created our own shields using cardboard and red and metallic paint. We then learned about battle formations. In the hall, we split ourselves in half and made a battle formation. We then tested our shields to see if they could withstand the enemy, who threw javelins and dodgeballs at our shields! We had a fantastic day!
Curriculum - History - Stone Age Workshop
Year 4 loved taking part in the Stone Age workshop. They got the opportunity to explore some Stone Age artefacts, including antlers for tools, flints, axes and knives. They also learnt how to trap and kill a woolly mammoth (Mr Horsey) and how to trade goods with other families or tribes.
Curriculum - History - Remembrance Day
All the children at school have remembered those who endured wars in our history and all over the world.
Curriculum - History - The Titanic
We have enjoyed investigating whether a source is a primary or secondary source and also finding out facts about the Titanic from these sources.
Curriculum - History - The Battle of Britain
Year 6 have been using clues to explain why Britain won The Battle of Britain against the German Luftwaffe.